Features
Bridge Command is designed to be as powerful and flexible as possible, and is freely available for use both commercially and non-commercially. It is distributed with a number of scenarios in different sea areas, and both scenarios and entire sea areas can be created to satisfy your own requirements. An illustrated selection of some of Bridge Command's features is shown below.
In addition to those illustrated below, some of Bridge Command's features include:
A scenario editor, to allow scenarios to be set up as required
An experimental multiplayer mode, allowing multiple users to interact in the same sea area. Feedback is especially welcome on this new feature.
Time compression (real time to 3600x)
Dynamic modelling of own ship behaviour, with all aspects configurable
Harmonic tidal modelling
The 'own ship' can be controlled with physical controls, for increased simulation realism.
Bridge Command is under continuous development, and suggestions for additional features are very welcome.
Any number of other vessels can be included in scenarios. These can be controlled in real time by an instructor, using the controller programme included, or have pre-planned tracks, with any number of course legs. Combined with the controller, Bridge Command can be used to carry out all type of exercises, from simple navigation training, to complex interaction with all vessels around. The controller program can also be used to control the weather and visibility in the exercise.
The controller and Bridge Command communicate over the network using standard protocols, so can run on any two computers with no need for proprietary hardware.
A scanning radar, with variable ranges is simulated. In addition, up to ten parallel index lines can be added for blind pilotage exercises. Full automatic ARPA radar tracking is also simulated. This allows radar collision avoidance to be simulated. The radar can be displayed in full screen or as a small view.


Click on image for a larger version
Bridge Command can be used to run multiple screens, giving a panoramic view of the simulation. This uses one computer per screen.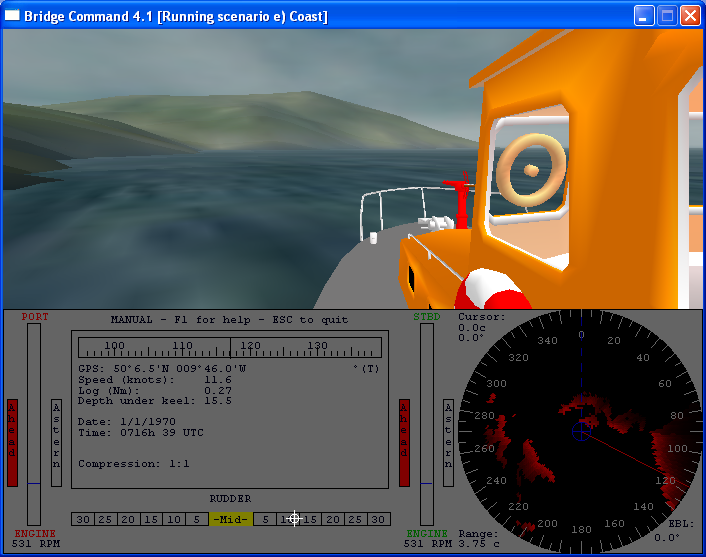 The weather can be controlled, pitching and buffeting the own ship. The visibility can also be set and controlled in an exercise, so navigation in poor conditions can be simulated effectively.
Navigation at night is simulated, with lights on other vessels, buoys and light houses. Buoy and land lights can have any light sequence, and sector lights can be simulated ashore.
The dynamics of all types of vessels can be simulated, from very small to very large, including effects such as propeller walk.